Click
golf here
to email this page to a friend
Welcome to...
Flamingo Lakes Golf & Country Club
Public 18 hole Golf Course
Located in Pembroke Pines, Broward County.
Century Village®, The greatest retirement community in Florida.
Located just one half mile east of I-75 at century village® in Pembroke Pines, Flamingo Lakes might be browards best kept secret. A Semi-private daily fee golf course Flamingo Lakes offers a challenging par 71 golf course that will test all skill levels. Opened in 1985 Flamingo Lakes has continued to provide quality course conditions at a reasonable price. Annual memberships are available as well as six month and summer memberships. If you like a challenging course with smooth rolling greens, then come and give Flamingo Lakes a visit. We're sure you won't be disappointed.
For a tee time call - 954-435-6110
It's thrilling teeing-up for the first time on Flamingo Lakes Golf & Country Club
Did you know golf was established over five hundred years ago...
Have you ever looked at a courses scorecard when you got to the first tee, and thought, this is a short course I might be able to shoot a low number? Well in western Pembroke Pines lies one of the most challenging par 71 courses's to get around, in par. Many people have called Flamingo Lakes C.C., the toughest 5900 yard course around.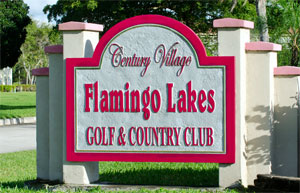 Why is Flamingo Lakes so challenging? The course offers the use of all the clubs in your bag. Makes you consider when to attack a pin and when not to. Smooth rolling greens with just the right amount of slope and accuracy off the tee all make Flamingo Lakes a course," you could play everyday". So look for our specials on this page, give us a try. I'm sure you'll come back again to try and shoot that low score.
"This is what a Semi-private Golf Course is all about
Flamingo Lakes. I've loved this course from the first time I played it."
Jon Stiles, Pembroke Pines
The Grand Game of Golf,
" Golf is deceptively simple and endlessly complicated"
Arnold Palmer